Alabama Severe Weather Tax Free Weekend 2017
Alabama Severe Weather Tax Free Weekend 2017
Alabama Severe Weather Tax Free Weekend announced for 2017 by Alabama Department of Revenue.
(February 24-26, 2017) Alabama Severe Weather Preparedness Tax Free Weekend 2017 will begin on Friday, February 24th, 2017, and end on Sunday, February 26th, 2017.
This will allow Alabama shoppers to stock up on common supplies costing less than $60 that every home and business needs to prepare for a natural disaster tax free. Generators costing $1,000 or less also can be purchased free of the state's four-percent sales tax during the three-day sales tax holiday.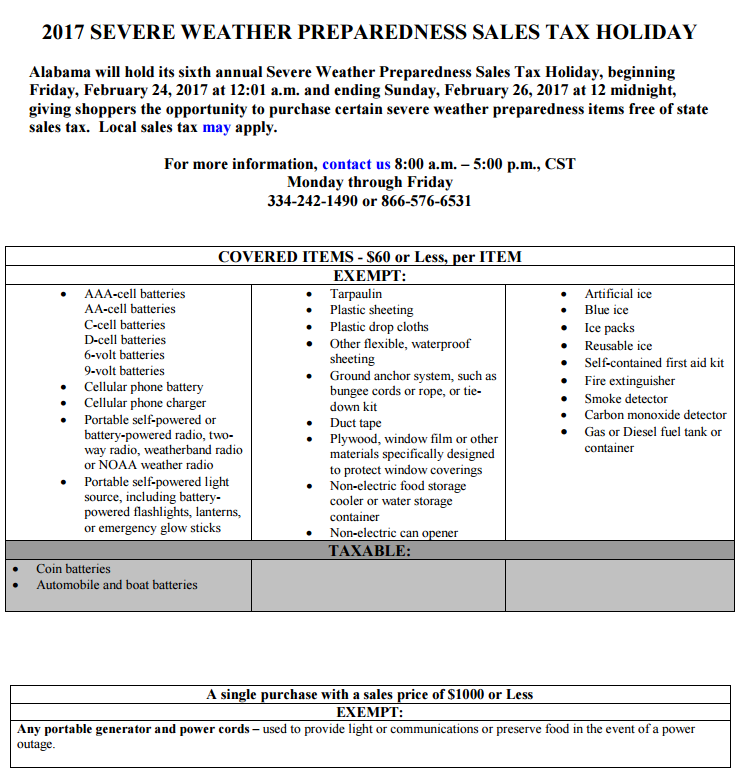 Alabama Free Tax Weekend Severe Weather Preparedness 2017. Alabama Severe Weather Sales Tax Holiday 2017
Alabama local governments have until January 24th, 2017, to notify the Alabama Department of Revenue if they will also waive their sales taxes on the covered items.
Source. More information on Alabama Department of Revenue webpage, here.
Will your locality be participating in the 2017 Severe Weather Preparedness Sales Tax Holiday?
See if your city is participating in Alabama Severe Weather Sales Tax Holiday 2017.
| Locality | Locality Code | Date Notification Received | Participating | Resolution or      Ordinance No. | Effective Period |
| --- | --- | --- | --- | --- | --- |
| Abbeville | 9356 | | | | |
| Adamsville | 9130 | | | | |
| Addison | 9309 | 11/25/2015 | Yes | Res. 2016-1116 | 2016 |
| Akron | 9668 | | | | |
| Alabaster | 9413 | 11/30/2015 | No | | |
| Albertville | 9397 | 7/4/2013 | Yes | Ord. 1978-13 | Each Year |
| Alexander City | 9358 | | | | |
| Aliceville | 9301 | 10/27/2015 | No | | |
| Allgood | 9709 | 9/30/2015 | No | | |
| Altoona | 9709 | 11/30/2015 | No | | |
| Andalusia | 9631 | | | | |
| Anderson | 9479 | 12/8/2015 | No | | |
| Anniston | 9311 | | | | |
| Arab | 9448 | 6/2/2015 | Yes | Ord. 2015-9 | Each Year |
| Ardmore | 9634 | 5/15/2012 | Yes | Res. 04-14-12 | Each Year |
| Argo | 9729 | | | | |
| Ariton | 9602 | | | | |
| Arley | 9642 | 11/6/2012 | Yes | Res. 2012-04 | Each Year |
| Ashford | 9342 | 9/4/2014 | Yes | Ord. 2012-004 | Each Year |
| Ashland | 9351 | 11/3/2015 | Yes | Res. 10-19-01-2015 | 2016 |
| Ashville | 9325 | 12/9/2015 | Yes | Ord. 2015-006 | 2016 |
| Athens | 9664 | 11/2/2015 | Yes | Ord. 2015-1971 | 2016 |
| Atmore | 9386 | 9/23/2015 | No | | |
| Attalla | 9406 | 11/23/2015 | Yes | Res. 5675(15) | 2016 |
| Auburn | 9388 | 11/19/2015 | Yes | Ord. 2951 | 2016 |
| Autauga County | 7001 | 1/9/2013 | Yes | Res. 2013-01 | Each Year |
| Autaugaville | 9679 | | | | |
| Baker Hill | 9752 | 9/16/2015 | No | | |
| Baldwin County | 7002 | 12/7/2015 | Yes | Res. 2016-021 | 2016 |
| Banks | 9109 | 10/12/2015 | No | | |
| Barbour County | 7003 | 11/17/2015 | Yes | Res. 2016-02 | 2016 |
| Bay Minette | 9354 | | | | |
| Bayou La Batre | 9439 | 1/16/2014 | Yes | Ord. 2014-001 | Each Year |
| Bear Creek | 9643 | | | | |
| Beatrice | 9110 | | | | |
| Beaverton | 9756 | 9/16/2015 | No | | |
| Belk | 9711 | | | | |
| Berry | 9305 | | | | |
| Bessemer | 9336 | 2/20/2013 | Yes | Ord. 3477 | Each Year |
| Bibb County | 7004 | 5/22/2012 | Yes | Res. 2012-14 | Each Year |
| Birmingham | 9137 | | | | |
| Black | 9748 | 9/23/2015 | No | | |
| Blount County | 7005 | 12/15/2015 | Yes | Res. 2015-12-01 | 2016 |
| Blountsville | 9636 | 10/22/2015 | No | | |
| Blue Springs | 9731 | | | | |
| Boaz | 9384 | | | | |
| Boligee | 9707 | | | | |
| Brantley | 9657 | | | | |
| Brent | 9685 | 9/24/2015 | Yes | Res. | 2016 |
| Brewton | 9306 | 12/15/2015 | No | | |
| Bridgeport | 9411 | | | | |
| Brighton | 9474 | | | | |
| Brilliant | 9147 | | | | |
| Brookside | 9708 | 11/30/2015 | No | | |
| Brookwood | 9697 | | | | |
| Brundidge | 9676 | 5/24/2012 | Yes | Res. 2012-10 | Each Year |
| Bullock County | 7006 | 12/13/2012 | Yes | Res. 2012-21 | Each Year |
| Butler | 9417 | 6/27/2012 | Yes | Res. 289 | Each Year |
| Butler County | 7007 | 12/14/2015 | Yes | Res. | 2016 |
| Calera | 9473 | | | | |
| Calhoun County | 7008,7108,7208,7308 | 5/14/2012 | Yes | Res. | Each Year |
| Camden | 9482 | | | | |
| Camp Hill | 9302 | | | | |
| Carbon Hill | 9436 | | | | |
| Carrollton | 9329 | 11/6/2015 | No | | |
| Castleberry | 9674 | | | | |
| Cedar Bluff | 9630 | 12/15/2015 | Yes | Res. 2015-10 | 2016 |
| Center Point | 9772 | | | | |
| Centre | 9626 | | | | |
| Centreville | 9681 | | | | |
| Chambers County | 7009,7109,7209,7309, 7409,7609,7909,7070,7170 | 10/9/2015 | Yes | Res. | 2016 |
| Chatom | 9312 | 9/23/2015 | No | | |
| Chelsea | 9158 | 11/30/2015 | No | | |
| Cherokee | 9399 | 6/19/2012 | Yes | Ord. 2012-004 | Each Year |
| Cherokee County | 7010 | 10/9/2015 | Yes | Res. | 2016 |
| Chickasaw | 9437 | 12/10/2013 | Yes | Ord. 2013-33 | Each Year |
| Childersburg | 9627 | 6/7/2012 | Yes | Ord. 1088 | Each Year |
| Chilton County | 7011 | | | | |
| Choctaw County | 7012 | 6/20/2012 | Yes | Res. | Each Year |
| Citronelle | 9327 | 11/26/2013 | Yes | Ord. 1288 | Each Year |
| Clanton | 9416 | | | | |
| Clarke County | 7013 | 11/10/2015 | Yes | Res. | 2016 |
| Clay | 9767 | 10/27/2014 | Yes | Res. 2014-38 | Each Year |
| Clay County | 7014 | | | | |
| Clayhatchee | 9614 | | | | |
| Clayton | 9615 | | | | |
| Cleburne County | 7015 | | | | |
| Cleveland | 9496 | 11/2/2012 | Yes | Ord. 2012-02 | Each Year |
| Clio | 9443 | 10/7/2015 | No | | |
| Coaling | 9106 | | | | |
| Coffee County | 7016 | | | | |
| Coffee Springs | 9498 | 9/18/2015 | No | | |
| Coffeeville | 9113 | | | | |
| Coker | 9760 | 10/20/2015 | Yes | Res. 2015-3 | 2016 |
| Colbert County | 7017 | 11/19/2015 | Yes | Res. | 2016 |
| Collinsville | 9434 | 12/9/2015 | Yes | Ors. 2015-04 | 2016 |
| Columbia | 9459 | | | | |
| Columbiana | 9368 | 10/20/2015 | Yes | Res. 10-15-01 | 2016 |
| Conecuh County | 7018 | 11/3/2015 | Yes | Res. | 2016 |
| Coosa County | 7019 | | | | |
| Coosada | 9698 | 10/26/2015 | Yes | Res. 2015-651 | 2016 |
| Cordova | 9164 | | | | |
| Cottonwood | 9422 | | | | |
| County Line | 9167 | | | | |
| Courtland | 9635 | | | | |
| Covington County | 7020 | 11/25/2015 | Yes | Res. 15-11-18-01 | 2016 |
| Cowarts | 9730 | 10/14/2015 | No | | |
| Crenshaw County | 7021 | 9/29/2015 | No | | |
| Creola | 9737 | | | | |
| Crossville | 9669 | 5/17/2012 | Yes | Ord. 2012-05-07 | Each Year |
| Cuba | 9712 | 9/16/2015 | No | | |
| Cullman | 9170 | | | | |
| Cullman County | 7022,7122 | 10/26/2012 | Yes | Res. 2013-05 | Each Year |
| Cusseta | 9713 | 11/30/2015 | No | | |
| Dadeville | 9300 | 10/27/2015 | Yes | Ord. 489 | 2016 |
| Dale County | 7023 | | | | |
| Daleville | 9343 | 1/18/2013 | Yes | Res. 01-17-2013A | Each Year |
| Dallas County | 7024 | 11/27/2013 | Yes | Res. | Each Year |
| Daphne | 9623 | 4/28/2015 | Yes | Res. 2015-28 | Each Year |
| Dauphin Island | 9721 | 10/28/2015 | Yes | Res. 2015-10-06 | 2016 |
| Daviston | 9494 | | | | |
| Deatsville | 9755 | | | | |
| Decatur | 9152 | 6/7/2012 | Yes | Ord. 12-4111 | Each Year |
| DeKalb County | 7025 | 11/20/2015 | Yes | Res. 15-1117-01 | 2016 |
| Demopolis | 9683 | | | | |
| Detroit | 9757 | | | | |
| Dodge City | 9143 | 11/19/2015 | Yes | Ord. 2015-10A | 2016 |
| Dora | 9346 | 11/4/2015 | Yes | Res. 8-2015 | 2016 |
| Dothan | 9653 | 11/30/2015 | No | | |
| Double Springs | 9200 | 11/9/2015 | Yes | Res. 2015-5 | 2016 |
| Douglas | 9646 | 6/12/2012 | Yes | Ord. 88 | Each Year |
| Dozier | 9722 | | | | |
| Dutton | 9460 | | | | |
| East Brewton | 9308 | | | | |
| Eclectic | 9395 | 11/5/2015 | Yes | Res. 2015-11-001 | 2016 |
| Edwardsville | 9103 | | | | |
| Elba | 9385 | | | | |
| Elberta | 9650 | | | | |
| Eldridge | 9457 | | | | |
| Elkmont | 9654 | 6/6/2012 | Yes | Res. 2012-05 | Each Year |
| Elmore | 9116 | 11/25/2015 | No | | |
| Elmore County | 7026,7726 | 10/31/2012 | Yes | Res. | Each Year |
| Emelle | 9692 | | | | |
| Enterprise | 9321 | | | | |
| Escambia County | 7027,7127,7227,7727 | 12/11/2015 | No | | |
| Ethelsville | 9154 | | | | |
| Etowah County | 7028 | 1/22/2013 | Yes | Res. | Each Year |
| Eufaula | 9304 | 10/20/2015 | Yes | Res. 109-2015 | 2016 |
| Eutaw | 9362 | | | | |
| Eva | 9104 | | | | |
| Evergreen | 9432 | | | | |
| Excel | 9633 | | | | |
| Fairfield | 9132 | | | | |
| Fairhope | 9117 | | | | |
| Fairview | 9136 | 11/4/2015 | Yes | Ord. 26 | Each Year |
| Falkville | 9611,9511 | 6/11/2012 | Yes | Ord. 2012-4 | Each Year |
| Faunsdale | 9425 | | | | |
| Fayette | 9488 | 12/14/2015 | Yes | Res. 2015-15 | 2016 |
| Fayette County | 7029 | | | | |
| Five Points | 9771 | | | | |
| Flomaton | 9723 | 11/2/2015 | Yes | Res. 14-15 | 2016 |
| Florala | 9624 | 10/28/2015 | Yes | Res. 20151026 | 2016 |
| Florence | 9455 | 6/12/2012 | Yes | Res. | Each Year |
| Foley | 9492 | 6/11/2012 | Yes | Ord. 1194-12 | Each Year |
| Forkland | 9601 | 9/24/2015 | No | | |
| Fort Deposit | 9382 | 5/17/2012 | Yes | Ord. 2012-1 | Each Year |
| Fort Payne | 9350 | 11/12/2013 | Yes | Ord. 2013-11 | Each Year |
| Franklin | 9667 | | | | |
| Franklin County | 7030 | 5/23/2012 | Yes | Res. | Each Year |
| Frisco City | 9394 | | | | |
| Fulton | 9704 | 9/16/2015 | No | | |
| Fultondale | 9418 | | | | |
| Fyffe | 9441 | | | | |
| Gadsden | 9696 | 1/20/2015 | Yes | Ord. O-01-15 | Each Year |
| Gainesville | 9777 | | | | |
| Gantt | 9741 | 9/21/2015 | No | | |
| Gardendale | 9360 | 11/24/2015 | Yes | Res. 2015-146 | 2016 |
| Gaylesville | 9734 | | | | |
| Geiger | 9699 | | | | |
| Geneva | 9303 | 6/14/2012 | Yes | Ord. 05-2012-02 | Each Year |
| Geneva County | 7031 | | | | |
| Georgiana | 9353 | 6/6/2012 | Yes | Ord. 2012-5 | Each Year |
| Geraldine | 9318 | 11/24/2015 | Yes | Res. 2015-11-02 | 2016 |
| Gilbertown | 9438 | | | | |
| Glen Allen | 9165 | 11/25/2015 | No | | |
| Glencoe | 9402 | 10/27/2014 | Yes | Res. 14-03 | Each Year |
| Glenwood | 9733 | | | | |
| Goldville | 9744 | | | | |
| Goodwater | 9377 | | | | |
| Gordo | 9393, 9593 | | | | |
| Gordon | 9613 | | | | |
| Gordonville | 9740 | | | | |
| Goshen | 9476 | 11/17/2015 | No | | |
| Grant | 9398 | 11/27/2013 | Yes | Ord. 244 | 2014-2016 |
| Graysville | 9133 | 12/10/2013 | Yes | Ord. 900 | Each Year |
| Greene County | 7032 | 12/1/2015 | Yes | Res. | 2016 |
| Greensboro | 9483 | 11/17/2015 | Yes | Res. 2015-06 | 2016 |
| Greenville | 9435 | 12/16/2015 | Yes | Res. 2015-79 | 2016 |
| Grimes | 9759 | 11/13/2015 | No | | |
| Grove Hill | 9673 | | | | |
| Guin | 9324 | | | | |
| Gulf Shores | 9428 | 6/26/2012 | Yes | Ord. 1677 | Each Year |
| Guntersville | 9344 | 1/10/2013 | Yes | Ord. 1035 | Each Year |
| Gurley | 9480 | 9/16/2015 | No | | |
| Hackleburg | 9349 | | | | |
| Hale County | 7033 | 12/16/2015 | No | | |
| Haleburg | 9768 | | | | |
| Haleyville | 9000 | 5/10/2012 | Yes | Ord. 2012-08A | Each Year |
| Hamilton | 9359 | 1/18/2013 | Yes | Ord. 2013-1 | Each Year |
| Hammondville | 9600 | 9/23/2015 | No | | |
| Harpersville | 9645 | | | | |
| Hartford | 9481 | | | | |
| Hartselle | 9307 | 5/25/2012 | Yes | Ord. 1380 | Each Year |
| Hayden | 9658 | | | | |
| Hayneville | 9409 | 1/22/2013 | Yes | Ord. 5-14-2012 | Each Year |
| Headland | 9400 | 2/7/2014 | Yes | Ord. 1-2014-2 | Each Year |
| Heath | 9120 | | | | |
| Heflin | 9316 | 1/12/2015 | Yes | Ord. 2014-12-09 | Each Year |
| Helena | 9489 | 1/8/2015 | Yes | Ord. 834-15 | Each Year |
| Henagar | 9369 | | | | |
| Henry County | 7034 | | | | |
| Hillsboro | 9720 | 12/1/2014 | Yes | Ord. 2014-02 | Each Year |
| Hobson City | 9687 | | | | |
| Hodges | 9612 | | | | |
| Hokes Bluff | 9617 | 5/14/2012 | Yes | Res. | Each Year |
| Hollywood | 9465 | | | | |
| Homewood | 9491 | 6/18/2012 | Yes | Ord. 2463 | Each Year |
| Hoover | 9424 | 11/6/2015 | Yes | Res. 5325-15 | 2016 |
| Houston County | 7035 | | | | |
| Hueytown | 9371 | 8/5/2013 | Yes | Ord. 13-0723-3 | Each Year |
| Huntsville | 9145 | 6/20/2012 | Yes | Ord. 406 | Each Year |
| Hurtsboro | 9451 | 10/30/2015 | No | | |
| Hytop | 9743 | | | | |
| Ider | 9485 | 10/26/2015 | Yes | Res. 2015-11 | 2016 |
| Irondale | 9134 | | | | |
| Jackson | 9340 | | | | |
| Jackson County | 7036 | 5/21/2012 | Yes | Res. | Each Year |
| Jacksons' Gap | 9682 | 12/16/2015 | No | | |
| Jacksonville | 9376 | | | | |
| Jasper | 9680 | 9/26/2014 | Yes | Ord. 2013-006 | Each Year |
| Jefferson County | 7037,7137 | | | | |
| Jemison | 9607 | | | | |
| Kansas | 9629 | 12/8/2015 | No | | |
| Kellyton | 9774 | | | | |
| Kennedy | 9332 | 9/24/2015 | No | | |
| Killen | 9396 | 11/16/2015 | Yes | Res. 2015-18 | 2016 |
| Kimberly | 9644 | 5/15/2012 | Yes | Ord. 2012-12-A | Each Year |
| Kinsey | 9647 | | | | |
| Kinston | 9366 | 9/21/2015 | No | | |
| LaFayette | 9466 | 10/27/2015 | Yes | Ord. 438 | 2016 |
| Lake View | 9754 | | | | |
| Lakeview | 9778 | | | | |
| Lamar County | 7038 | 10/20/2015 | Yes | Res. | 2016 |
| Lanett | 9616 | 11/5/2015 | Yes | Res. 11-15-01 | 2016 |
| Langston | 9123 | 9/17/2015 | No | | |
| Lauderdale County | 7039 | 11/12/2015 | Yes | Res. | 2016 |
| Lawrence County | 7040 | 10/21/2015 | Yes | Res. | 2016 |
| Lee County | 7041,7141,7241,7741 | 11/25/2015 | Yes | Res. | 2016 |
| Leeds | 9401 | 9/23/2015 | Yes | Res. 2015-09-10 | 2016 |
| Leesburg | 9729 | 12/2/2015 | No | | |
| Leighton | 9471 | | | | |
| Level Plains | 9446 | | | | |
| Lexington | 9468 | | | | |
| Limestone County | 7042 | 10/8/2015 | Yes | Res. | 2016 |
| Lincoln | 9403 | | | | |
| Linden | 9695 | | | | |
| Lineville | 9352 | 10/27/2015 | No | | |
| Lipscomb | 9464 | | | | |
| Lisman | 9648 | | | | |
| Littleville | 9355 | | | | |
| Livingston | 9415 | | | | |
| Lockhart | 9742 | | | | |
| Locust Fork | 9726 | | | | |
| Louisville | 9361 | 11/24/2015 | No | | |
| Lowndes County | 7043 | | | | |
| Lowndesboro | 9770 | 10/21/2015 | No | | |
| Loxley | 9330 | 10/20/2015 | Yes | Ord. 2015-11 | 2016 |
| Luverne | 9651 | | | | |
| Lynn | 9125 | 9/25/2015 | No | | |
| Macon County | 7044 | | | | |
| Madison | 9662 | 10/23/2015 | Yes | Ord. 2015-262 | 2016 |
| Madison County | 7045,7745 | 11/20/2015 | Yes | Res. | 2016 |
| Magnolia Springs | 9773 | 11/30/2015 | Yes | Res. 2015-10 | 2016 |
| Malvern | 9656 | 10/7/2015 | No | | |
| Maplesville | 9609 | 11/30/2015 | No | | |
| Marengo County | 7046 | 5/10/2012 | Yes | Res. 050812 | Each Year |
| Margaret | 9672 | | | | |
| Marion | 9381 | | | | |
| Marion County | 7047,7747 | | | | |
| Marshall County | 7048,7748 | 11/25/2016 | No | | |
| McIntosh | 9462 | | | | |
| McKenzie | 9419 | | | | |
| Mentone | 9655 | 12/11/2015 | No | | |
| Midfield | 9375 | | | | |
| Midland City | 9499 | | | | |
| Midway | 9126 | | | | |
| Millbrook | 9638 | 6/21/2013 | Yes | Ord. 13-03 | Each Year |
| Millport | 9100 | 9/16/2015 | No | | |
| Millry | 9367 | 9/35/2015 | No | | |
| Mobile (City of) | 9149 | 6/13/2012 | Yes | Ord. 34-014 | Each Year |
| Mobile County | 7049 & 7749 | 10/14/2015 | Yes | Res. | 2016 |
| Monroe County | 7050 | | | | |
| Monroeville | 9423 | | | | |
| Montevallo | 9604 | 1/22/2013 | Yes | Ord. 01142013-300 | Each Year |
| Montgomery (City of) | 9454 | 2/22/2013 | Yes | Ord. 10-2013 | Each Year |
| Montgomery County | 7051 | 12/17/2015 | Yes | Res. | 2016 |
| Moody | 9671 | 9/28/2015 | No | | |
| Morgan County | 7052,7252,7352,7452,7752 | 9/17/2015 | No | | |
| Morris | 9373 | 10/28/2015 | Yes | Res. 2015-06 | 2016 |
| Mosses | 9677 | | | | |
| Moulton | 9414 | | | | |
| Moundville | 9461 | | | | |
| Mountain Brook | 9135 | 6/12/2012 | Yes | Res. 2012-083 | Each Year |
| Mt Vernon | 9495 | 10/14/2015 | Yes | Ord. 168-D | 2016 |
| Mulga | 9107 | | | | |
| Munford | 9764 | | | | |
| Muscle Shoals | 9341 | 1/9/2014 | Yes | Res. 2671-14 | Each Year |
| Myrtlewood | 9724 | 11/5/2015 | No | | |
| Napier Field | 9493 | 10/8/2015 | No | | |
| Nauvoo | 9127 | | | | |
| Needham | 9689 | 10/13/2015 | No | | |
| New Brockton | 9445 | 1/16/2014 | Yes | Res. 13-02 | Each Year |
| New Hope | 9700 | 6/19/2012 | Yes | Ord. 380 | Each Year |
| New Site | 9605 | 10/3/2015 | No | | |
| Newbern | 9688 | 9/25/2015 | No | | |
| Newton | 9325 | | | | |
| Newville | 9472 | 1/15/2014 | Yes | Res. 01-2014 | Each Year |
| North Courtland | 9678 | | | | |
| Northport | 9162 | | | | |
| Notasulga | 9407 | | | | |
| Oak Grove | 9603 | 5/10/2012 | Yes | Ord. 89 | Each Year |
| Oakman | 9652 | | | | |
| Odenville | 9641 | | | | |
| Ohatchee | 9632 | 11/25/2015 | No | | |
| Oneonta | 9408 | 12/18/2015 | Yes | Res. 2015-12-17-STH_ | 2016 |
| Opelika | 9663 | 5/16/2012 | Yes | Ord. 106-12 | Each Year |
| Opp | 9628 | 12/31/2013 | Yes | Ord. 2013-01 | Each Year |
| Orange Beach | 9706 | | | | |
| Orrville | 9775 | 12/14/2015 | Yes | Ord. 12 | 2016 |
| Owens Cross Roads | 9703 | 10/31/2012 | Yes | Res. 12-10-25 | Each Year |
| Oxford | 9315 | | | | |
| Ozark | 9339 | 10/2/2015 | No | | |
| Parrish | 9429 | 5/17/2012 | Yes | Ord. 051612 | Each Year |
| Pelham | 9452 | 11/19/2015 | Yes | Res. 2015-11-16-03 | 2016 |
| Pell City | 9621 | 10/14/2015 | Yes | Ord. 2015-4518 | Each Year |
| Pennington | 9469 | | | | |
| Perdido Beach | 9779 | 9/18/2015 | No | | |
| Perry County | 7053 | | | | |
| Phenix City | 9383 | 11/5/2015 | Yes | Ord. 2015-17 | 2016 |
| Phil Campbell | 9334 | 6/14/2012 | Yes | Res. | Each Year |
| Pickens County | 7054 | 12/8/2015 | Yes | Res. | 2016 |
| Pickensville | 9610 | | | | |
| Piedmont | 9426 | | | | |
| Pike County | 7055 | 5/22/2012 | Yes | Res. 12-0514 | Each Year |
| Pike Road | 9753 | 11/25/2015 | Yes | Ord. 2015-0338 | 2016 |
| Pinckard | 9490 | | | | |
| Pine Hill | 9421 | | | | |
| Pinson | 9675 | | | | |
| Pisgah | 9430 | | | | |
| Pleasant Grove | 9420 | 9/28/2015 | No | | |
| Powell | 9391 | 11/25/2015 | No | | |
| Prattville | 9365 | 10/7/2015 | Yes | Ord. | 2016 |
| Priceville | 9716 | 11/25/2015 | No | | |
| Prichard | 9431 | | | | |
| Ragland | 9310 | 11/25/2015 | No | | |
| Rainbow City | 9666 | 6/12/2012 | Yes | Ord. 485 | Each Year |
| Rainsville | 9389 | 11/17/2014 | Yes | Ord. 11-03-14 | Each Year |
| Ranburne | 9717 | | | | |
| Randolph County | 7056 | 11/16/15 | Yes | Res. | 2016 |
| Red Bay | 9313 | 1/23/2013 | Yes | Ord. | Each Year |
| Red Level | 9661 | 10/21/2015 | Yes | Ord. 2015-04 | 2016 |
| Reece City | 9749 | | | | |
| Reform | 9345 | | | | |
| Rehobeth | 9745 | | | | |
| Repton | 9659 | 6/21/2012 | Yes | Ord. 2012-005 | Each Year |
| Ridgeville | 9705 | | | | |
| River Falls | 9739 | 9/24/2015 | No | | |
| Riverside | 9727 | | | | |
| Riverview | 9637 | | | | |
| Roanoke | 9319 | 6/18/2012 | Yes | Ord. 2012-05-02 | Each Year |
| Robertsdale | 9618 | 7/16/2012 | Yes | Ord. 006-12 | Each Year |
| Rockford | 9762 | 9/17/2015 | No | | |
| Rogersville | 9390 | | | | |
| Russell County | 7057 | | | | |
| Russellville | 9404 | 6/6/2012 | Yes | Ord. 2012-103 | Each Year |
| Rutledge | 9747 | | | | |
| Samson | 9317 | | | | |
| Sand Rock | 9738 | | | | |
| Sanford | 9769 | | | | |
| Saraland | 9758 | | | | |
| Sardis City | 9719 | | | | |
| Satsuma | 9139 | | | | |
| Scottsboro | 9410 | 6/13/2012 | Yes | Ord. 0571 | Each Year |
| Section | 9619 | 9/24/2015 | No | | |
| Selma | 9320 | | | | |
| Semmes | 9608 | 5/18/2012 | Yes | Res. 2012-36 | Each Year |
| Sheffield | 9453 | 10/21/2015 | Yes | Res. | 2016 |
| Shelby County | 7058 | 5/31/2012 | Yes | Res. 12-05-29-11 | Each Year |
| Shorter | 9702 | | | | |
| Silas | 9427 | 10/13/2015 | No | | |
| Silverhill | 9670 | 5/30/2012 | Yes | Ord. 402 | Each Year |
| Sipsey | 9486 | 1/27/2015 | Yes | Ord. 2014-01-256 | Each Year |
| Skyline | 9140 | | | | |
| Slocomb | 9322 | 11/24/2015 | No | | |
| Smiths Station | 9763 | | | | |
| Snead | 9606 | 9/10/2012 | Yes | Res. 2012-06 | Each Year |
| Somerville | 9728 | | | | |
| Southside | 9701 | 11/12/2015 | Yes | Ord. 0-011-2015 | 2016 |
| Spanish Fort | 9102,9202,9203 | | | | |
| Springville | 9714 | 11/3/2015 | Yes | Ord. 2015-09 | 2016 |
| St. Clair County | 7059,7759 | 10/15/2015 | Limited | Res. 2015-46 | 2016 |
| St. Florian | 9478 | | | | |
| Steele | 9639 | | | | |
| Stevenson | 9447 | | | | |
| Sulligent | 9392 | 1/8/2014 | Yes | Ord. 2013-01 | Each Year |
| Sumiton | 9412 | | | | |
| Summerdale | 9649 | 10/26/2015 | Yes | Ord. 564-15 | 2016 |
| Sumter County | 7060 | 10/7/2015 | Yes | Res. | 2016 |
| Susan Moore | 9691 | 10/21/2015 | No | | |
| Sweet Water | 9467 | | | | |
| Sylacauga | 9442 | 10/29/2015 | Yes | Res. 54-2015 | 2016 |
| Sylvan Springs | 9718 | | | | |
| Sylvania | 9487 | 1/17/2013 | Yes | Res. 0113-01 | Each Year |
| Talladega | 9387 | 5/8/2012 | Yes | Ord. 1731 | Each Year |
| Talladega County | 7061,7161,7761 | 5/15/2012 | Yes | Res. | Each Year |
| Tallapoosa County | 7062 | | | | |
| Tallassee | 9363 | 6/12/2012 | Yes | Res. 2012-419 | Each Year |
| Tarrant | 9625 | 6/6/2012 | Yes | Ord. 1046 | Each Year |
| Taylor | 9736 | | | | |
| Thomaston | 9660 | | | | |
| Thomasville | 9405 | | | | |
| Thorsby | 9640 | | | | |
| Town Creek | 9622 | | | | |
| Toxey | 9372 | 9/22/2015 | No | | |
| Trafford | 9348 | | | | |
| Triana | 9746 | | | | |
| Trinity | 9153 | 5/20/2012 | Yes | Ord. 2012-06 | Each Year |
| Troy | 9328 | 6/15/2012 | Yes | Ord. 325 | Each Year |
| Trussville | 9620 | 11/24/2015 | No | | |
| Tuscaloosa | 9163 | | | | |
| Tuscaloosa County | 7063 | | | | |
| Tuscumbia | 9314 | 12/15/2015 | Yes | Res. 15-011 | 2016 |
| Tuskegee | 9335 | 11/25/2015 | Yes | Res. 2016-5 | 2016 |
| Union | 9121 | | | | |
| Union Grove | 9456 | | | | |
| Union Springs | 9450 | 1/23/2013 | Yes | Ord. 425 | Each Year |
| Uniontown | 9347 | | | | |
| Valley | 9665 | 9/30/2015 | Yes | Res. 2015-106R | 2016 |
| Valley Grande | 9766 | | | | |
| Valley Head | 9357 | 11/25/2015 | Yes | Res. 2015-1006 | 2016 |
| Vance | 9750 | | | | |
| Vernon | 9331 | | | | |
| Vestavia Hills | 9333 | 6/8/2012 | Yes | Res. 4296 | Each Year |
| Vina | 9484 | 6/30/2015 | Yes | Res. 2015 | Each Year |
| Vincent | 9378 | 10/21/2015 | Yes | Ord. 2015-003 | Each Year |
| Wadley | 9323 | | | | |
| Waldo | 9475 | | | | |
| Walker County | 7064 | 11/12/2013 | Yes | Res. | Each Year |
| Walnut Grove | 9715 | | | | |
| Warrior | 9337 | | | | |
| Waterloo | 9470 | 11/25/2015 | No | | |
| Waverly | 9761 | | | | |
| Weaver | 9440 | 9/16/2015 | No | | |
| Webb | 9710 | 11/9/2015 | No | | |
| Wedowee | 9374 | 11/30/2015 | No | | |
| West Blocton | 9693 | | | | |
| West Jefferson | 9144 | 10/29/2015 | No | | |
| Westover | 9765 | 11/20/2015 | Yes | Res. | 2016 |
| Wetumpka | 9338 | 5/31/2012 | Yes | Ord. 2012–4 | Each Year |
| White Hall | 9684 | | | | |
| Wilcox County | 7066 | | | | |
| Wilsonville | 9370 | 11/19/2015 | Yes | Ord. 151005 | 2016 |
| Wilton | 9686 | | | | |
| Winfield | 9458 | 12/5/2015 | Yes | Res. 1159 | 2016 |
| Winston County | 7067 | 5/23/2012 | Yes | Res. | Each Year |
| Woodland | 9690 | | | | |
| Woodstock | 9108 | | | | |
| Woodville | 9751 | 12/20/2013 | Yes | Res. 1-2014 | Each Year |
| Yellow Bluff | 9732 | | | | |
| York | 9444 | | | | |
 Alabama Tax Free Weekend 2017. Alabama Severe Weather Sales Tax Holiday 2017, Alabama Severe Weather Sales Tax Holiday
Tags: 2017, AL, Alabama, Alabama Severe Weather Sales Tax Holiday, Alabama Severe Weather Sales Tax Holiday 2017, Alabama Tax Free Weekend, sales tax holiday
Posted in 2017, Alabama, Sales Tax Holiday, Severe Weather Preparedness