New Mexico
New Mexico Tax Free Weekend 2017
New Mexico is offering one tax free weekend event during 2017. New Mexico Tax Free Weekend 2017
The NM Tax Free Weekend 2017 applies mainly to clothing, school supplies, and computers. Plan ahead and do your family's back-to-school shopping during the sales tax holiday to save a few extra dollars – or even more if you're purchasing costly computer equipment. Tax Free Weekend 2017 NM.
New Mexico Tax Free Weekend 2017 Event:
New Mexico's tax free weekend is scheduled for August 4-6th, 2017 and applies to the following items:
All clothing and shoes under $100
School supplies under $15
Computers under $1,000
Computer equipment under $500
The 2005 New Mexico Legislature established a deduction (Section 7-9-95 NMSA 1978) from gross receipts for retail sales of tangible personal property within a prescribed period every year in August. When retailers may deduct gross receipts, they have no need to recover tax costs from some customers. Customers can therefore buy these items during this period free of tax. For a more detailed list of taxable and nontaxable items, please see bulletin B-200.18, List of Taxable and Nontaxable Items for New Mexico's Gross Receipts Tax Holiday on the department's web site at www.tax.newmexico.gov, select "Forms and Publications." The prescribed period of the annual "gross receipts tax holiday" is the first weekend of August from 12:01 a.m. on the first Friday to midnight the following Sunday.
Source. New Mexico Tax Holiday Item List 03-14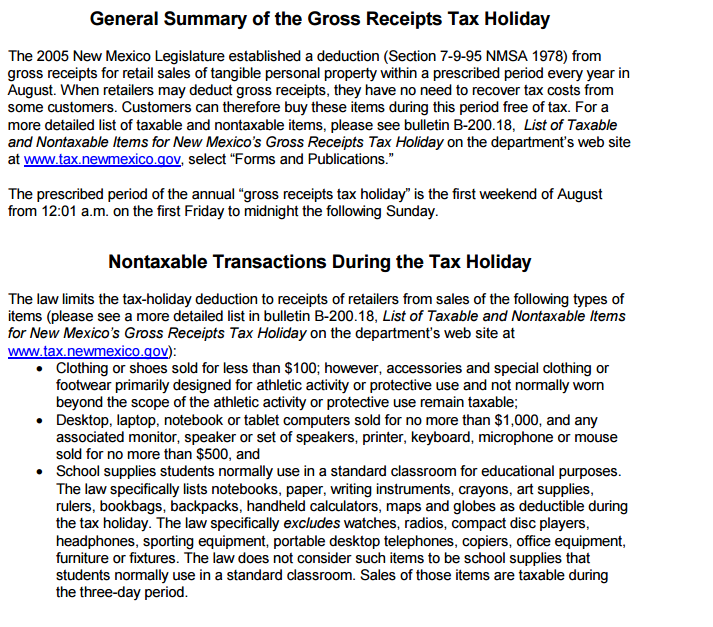 Tax Free Weekend 2017 NM
Tags: 2017, New Mexico, New Mexico Tax Free Weekend, NM, sales tax holiday, Tax Free Weekend
Posted in 2017, New Mexico, Sales Tax Holiday