Oklahoma Sales Tax Holiday 2017
Oklahoma Sales Tax Holiday 2017
The state of Oklahoma is offering one tax free weekend event during 2017. It applies to clothing and shoes and is intended to coincide with back-to-school shopping, when many parents stock up on kids' clothing and footwear. The Oklahoma Tax Commission has announced the dates for the Oklahoma Sales Tax Holiday 2017.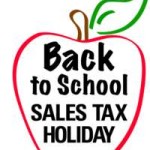 Oklahoma Tax Free Weekend 2017 is scheduled for August 4th through 6th, 2017. -UNVERIFIED.
The Oklahoma Sales Tax Holiday 2017 applies to the following items:
Clothing and shoes
Priced under $100
Oklahoma Tax Free Weekend 2017:
In addition, be careful not to overspend just because the tax free weekend is going on in your area. The regular sales tax rate in Oklahoma is 4.5%, so that's how much money you'd be saving – along with your local sales tax, if applicable. By shopping around, and also using coupons, you might find that the items you're looking for are less expensive either before the tax free weekend or after it takes place.
Certain clothing and shoe purchases under $100 are exempt from sales tax for this time period only.
Any qualifying items that are put on layaway during the exemption period and purchased after the period ends will not qualify for a tax exempt.
Internet purchases will be exempted if a person pays for the item and has it delivered to them during the exemption period.
For more information on exempted items visit Oklahoma Tax Commission
Tags: 2017, OK, Oklahoma, sales tax holiday
Posted in 2017, Oklahoma, Sales Tax Holiday