Oklahoma Sales Tax Holiday 2018
Oklahoma Sales Tax Holiday 2018
Oklahoma Tax Free Weekend 2018 still not confirmed by Oklahoma Tax Commission.
The state of Oklahoma is offering one tax free weekend event during 2018. It applies to clothing and shoes and is intended to coincide with back-to-school shopping, when many parents stock up on kids' clothing and footwear. The Oklahoma Tax Commission has announced the dates for the Oklahoma Sales Tax Holiday 2018.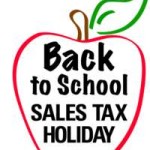 Oklahoma Tax Free Weekend 2018 is scheduled for August 3rd through 5th, 2018.
The Oklahoma Sales Tax Holiday 2018 applies to the following items:
Clothing and shoes
Priced under $100
Oklahoma Tax Free Weekend 2018:
Source: OK TFW Pages from Chapter 65 Sales and Use Tax
"Clothing" means all human wearing apparel suitable for general use.  A nonexclusive list of clothing that is exempt from sales and use taxes follows:
Aprons, household and shop
Athletic supporters
Baby receiving blankets
Bathing suits and caps
Beach capes and coats
Belts and suspenders
Boots
Coats and jackets
Costumes
Diapers, children and adult, including disposable diapers
Ear muffs
Footlets
Formal wear
Garters and garter belts
Girdles
Gloves and mittens for general use
Hats and caps
Hosiery
Insoles for shoes
Lab coats
Neckties
Overshoes
Pantyhose
Rainwear
Rubber pants
Sandals
Scarves
Shoes and shoe laces
Slippers
Sneakers
Socks and stockings
Steel toed shoes
Underwear
Uniforms, athletic and non-athletic
Wedding apparel
Tags: 2018, OK, Oklahoma, sales tax holiday
Posted in 2018, Oklahoma, Sales Tax Holiday