New tax free weekend aimed at emergency supplies – Texas Tax Free Weekend 2017 starts April 22nd
New tax free weekend aimed at emergency supplies – Texas Tax Free Weekend 2017
Texas Tax Free Weekend 2017 Emergency Preparedness Sales Tax Holiday
Most Texans are familiar with the Tax Free Weekend that happens a few weeks before school starts, but did you know there's a new sales tax holiday for items that can help you prepare for emergencies and severe weather? Texas Tax Free Weekend 2017 severe weather preparedness items list below.
New this year, Texans will be able to stock-up on emergency preparation supplies and not have to pay taxes on the items the weekend of April 22nd through 24th, 2017. The bill for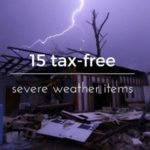 the sales tax exemption was passed during last year's legislative session.
Texas' Comptroller Glenn Hegar says this new tax holiday will allow residents to prepare before disaster strikes. "The severe weather, fire and flooding we had last year provided a stark reminder that Texans should be prepared for any emergency," Hegar says. "This sales tax holiday allows people to save money while ensuring they have the supplies they need if disaster strikes."
"We have two end caps full of batteries but we did order a lot more in preparation," said Ace Hardware store manager Cary Palumbo as he walked the store in Wimberley. For the past year, Wimberley residents have been recovering after a massive flood swept through their small town. Trees remain pushed over on the river beds and homes are still being built. Wimberley resident Erin Cudd saw the effects of severe weather just this past week. "It almost sounded like a freight train," Cudd said.
Tuesday night, wind gusts up to 60 miles per hour tore through her property uprooting more than a dozen trees and destroying a shed. "I didn't realize the damage that weather can cause, especially when it is unexpected. Making sure you have the right items that you need to be prepared for anytime that weather gets bad is just so important." That's exactly what this sales tax weekend is all about.
First aid kits, hatchets and fuel containers are just a few items on the list, and in a time when people are still trying to rebuild, a tax cut is always welcomed. "I think everyone needs a little bit of help," said Cudd.
The items that can be purchased tax-free are:
Less than $3000
Less than $300
Hurricane shutters
Emergency ladders
Less than $75
Batteries, single or multipack (AAA cell, AA cell, C cell, D cell, 6 volt or 9 volt)
First aid kits
Fuel containers
Ground anchor systems and tie-down kits
Hatchets
Axes
Mobile telephone batteries and mobile telephone chargers
Nonelectric coolers and ice chests for food storage
Nonelectric can openers
Portable self-powered light sources (hand cranked flashlights)
Portable self-powered radios, including two-way and weather band radios
Reusable and artificial ice products
Smoke detectors, fire extinguishers and carbon monoxide detectors
Tarps and other plastic sheeting
Purchases that do not qualify include:
Batteries for automobiles, boats and other motorized vehicles;
Camping stoves and camping supplies; and
Chainsaws
Texas Tax Free Weekend 2017
TX Tax Free Weekend 2017
TX Severe Weather Tax Free Weekend 2017
Texas has several sales-tax-free holidays. Some lawmakers are trying to add items to the lists of tax-free items. The current sales tax holidays this year:
Texas Emergency Preparation Supplies Sales Tax Holiday, April 22-24. This holiday lets shoppers in Texas shop tax free for items such as portable generators, storm protection devices, first-aid kits and other related items.
Texas Energy Star Sales Tax Holiday, May 27-29. This weekend lets Texans buy energy efficient items such as air conditioners, clothes washers, ceiling fans, dishwashers and certain types of light bulbs tax free.
Texas Water-Efficient Products Sales Tax Holiday, May 27-29. Texans may buy water conservation or water efficient products — such as a drip-irrigation hose, plants, mulch, even rain barrels — tax free this weekend.
Texas "Back to School" Sales Tax Holiday, Aug. 11-13. Parents, students and other shoppers may head to the stores to shop tax free for certain back to school clothes, shoes, school backpacks and other supplies.
Tags: 2017, emergency ladders, Emergency Preparedness, hurricane shutters, portable generator, severe weather, Tax Free Weekend, Texas, TX
Posted in 2017, Sales Tax Holiday, Severe Weather Preparedness, Texas